Lyrics & Songs > Courses & Resources > BTV Solo Music Production Software
BTV Solo Music Production Software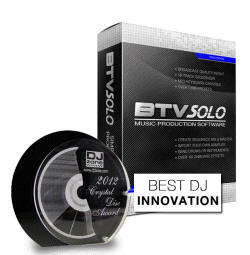 BTV Solo Music Production Software is an all-in-one program designed to help you compose your music right from your computer.
With this software there's no need to learn how to play an instrument. You just choose from thousands of pre-loaded sound samples to create your tracks.
Now of course, the software won't write your song's melody for you. You still have to choose your notes and form your melodies. But with this software it's like having access to a full band waiting to record their part of your song in the studio.
The sales page says you can arrange full songs using just the software, or you can also use it to support your existing home music production studio.
Also, it seems they're marketing the product specifically to Hip Hop music producers and Djs (mainly as a "beats & grooves" program), but the software is versatile enough to create demos of melodies for songs in other genres too (...well maybe not heavy metal).
Now make no mistake, nothing beats the sound of a real instrument playing, but this is a great alternative if you have no desire to become a professional musician. If you simply have a desire to write songs and just need a tool to help you write your melodies then this could be the right software for you.
The BTV Music Production Software Includes...
If you scroll down their sales page, they give a list of everything you get with the software. You download the software instantly after purchase and you're given 60 days to try it out risk free. And if you don't like the software you can email the company and get 100% of your money back. Below is a list of some of the things you get:
16-track real-time linear pattern-based sequencer
Onboard mixer with 60+ preset effects
Professional sampler
Training videos that show you how to use the software
You can find sample videos at the top and bottom of the sales page that are roughly 5 minutes long, showing how the music production software works and what professionals are saying about it. So see if BTV Music Production Software is something you think you'll like to use to help compose your song's music.
Click the button below to visit their page for more info.
$33.95
$15 (limited time)
Visit
Format: Software
Compatibility: Mac, PC
Access: Download
Required Space: 900MB
Money-Back: 60-Day trial
---
All purchases for this course are handled by "ClickBank: A Global Internet Retailer".
Affiliate ID: "joshuamay".
If you'd like to share your feedback about this course please post in the comments below. Thanks!