What Is A Bridge In A Song?
From the beginning of your song to its end, learn why a Bridge is the essential section that links your song together.
It's Reflection Time...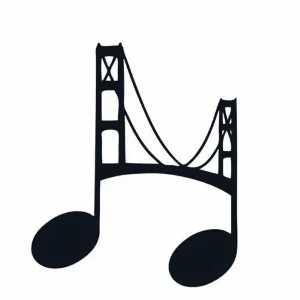 The Bridge is the section of your song that gives your audience time to reflect on your story, or gives them the "climax" (or conclusion) of the story you shared through your verses and chorus.
It may be easier to think of a Bridge as the third-act of a movie (you know, when everything is resolved).
Ask yourself:
What happens as a result of your song's story?

Have we arrived at our destination?
The Musical "Middle 8s"
Bridges are also called "middle 8's" because this section usually occurs in the middle of common pop songs and often are 8 bars (i.e. eight counts of 4 beats) long.
A bar is a measurement in music, but more on this later. Your "middle 8" also can be used to introduce a completely different mini-song |sandwiched between| your existing song...or be used to give your singer/rapper a longer break that the Break section.
Both Bridges are 8 bars long but the second example has a slower bar count.
How to Structure Your Song Bridges
Let's learn how to structure your Bridge using examples from some of today's popular songs. Join my free training group to learn everything about "Middle 8s" (as well as the critical skill of counting in bars).
Learn to write great songs like your favorite hits from the radio and train to become a great songwriter in four steps:
Download my free 6-step exercise manual to prepare your lyrical content for structuring. Having your song lyric fully fleshed-out before piecing it together is important.


Learn important skills and tips about each song section not taught in music theory class to get the most out of using the Song Structure Vault to structure your next song.


Follow audio & video songwriting lessons to complete your training.


Also, as a member get exclusive deals on all professional songwriting tools & courses offered on this website.
In a few weeks you'll have access to everything you need to structure great songs. You've already taken the first step by searching for this info. And reading this far shows me you have a passion for songwriting.
So take the next step. There's no cost to join and no obligation to stay.
But you need to join now because space is limited.
----
IMPORTANT: After you register, check your spam folder if you don't get a confirmation email within a few minutes.
- Jeezy
Updated: April 3, 2020
---
Was this page easy enough to understand? Post in the comments below.
If you like this page, share it!