BTV Solo
(Home Music Production Software)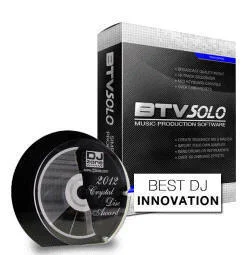 BTV Solo Music Production Software is an all-in-one program designed to help you compose your music right from your computer.
Learning an instrument isn't necessary, just choose from thousands of pre-loaded sound samples to create your audio tracks.
Choose your notes and develop your own melodies, with access to a full virtual orchestra in your home studio.
Even though BTV Solo Music Production software is created specifically for Hip Hop music producers and Djs as a "beats & grooves" app, the software is versatile enough to create melodies for songs in other genres too.
Now nothing beats (Ha! "beats...") the sound of a real instrument, but this is a great alternative. If you simply want to write songs and just need a tool for your melodies then this could be the right software for you.
BTV Solo Music Production Software includes...
Download the software instantly and take 60 days to try it out risk free. And if you don't like the software email the company during your trial for 100% of your money back. You get:
16-track real-time linear pattern-based sequencer
Onboard mixer with 60+ preset effects
Professional sampler
Training videos that show you how to use the software
Format: Software
Compatibility: Mac, PC
Access: Download
Required Space: 900MB
Money-Back: 60-Day trial
Watch the 5min sample videos at the top and bottom of the page, showing how the music production app works as well as testimonials. Click here to learn more about BTV Music Production Software.
If You Keep BTV Solo After 60 days...
It's important you know that as an affiliate partner I get a portion of the sale if you keep BTV Solo. But my main goal is to give songwriters the help they need to grow into great musicians without breaking the bank.
So if you choose to keep BTV Solo Music Production Software past 60 days, I'll personally refund to you 35% of what you paid for the software. But this is **only offered to my training group members**.
Just email me a copy of your purchase receipt after 60 days and tell me which money app you'd like me to use and I'll wire your refund to you immediately.
So click the button below to visit BTV Solo info page to learn more.
Click here to learn more about BTV Solo
- Jeezy
Updated: April 4, 2020
---
Have you tried this product? Post your opinion in the comments below.
If you like this product, share it!