Lyrics & Songs > Courses & Resources > Superior Songwriting
Superior Songwriting Course by Singorama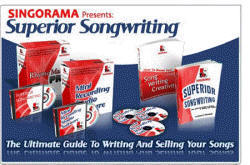 Superior Songwriting is a complete songwriting course created for you if you love music and like the idea of creating you own songs, even if you don't have any singing or music talent.
The creators of the course say they wanted to focus on two things: having fun (vs. just memorizing instructions) and listening to music examples (since they believe that's the real secret to becoming a great songwriter).

6 Elements of Songwriting Covered in This Course
After their two main focuses were covered, they hit all of the most important elements of songwriting in the course:
Idea Development
Writing Lyrics
Song Structure (in detail)
Composing Music
Including Rhyme
Marketing Your Completed Song (and earning a living writing for artists)
So whether you're a beginner or have written a few songs already, I only suggest you give this course a try if you're fully committed to learning the art of songwriting because there's a good amount of material to cover in this course.
You access the course material instantly after purchase and have 8 weeks (56 days) to see if it's worth its one-time fee of $50. Fifty dollars is expensive if you're just entered the working world and hope to start a career as a songwriter, so set your calendar so you don't forget the refund deadline in case this course isn't for you.
This songwriting course has both audio files to follow at you own pace, along with bonus eBooks and software to download and keep even if you ask for a refund.
There's a video at the top of its sales page that runs roughly 20-25 minutes long but if you don't feel like sitting through it you can just pause it and scroll down the sales page for all of the same information.
Click the button below to visit their page for more info.
Format: Audio, eBook
File Types: MP3, PDF, EXE
Access: Website
Money-Back: 56-day trial
---
All purchases for this course are handled by "ClickBank: A Global Internet Retailer".
Affiliate ID: "joshuamay".
If you'd like to share your feedback about this course please post in the comments below. Thanks!