Lyrics & Songs > Courses & Resources > Learn To Play The Guitar
Learn Piano By Chords by David Yzhaki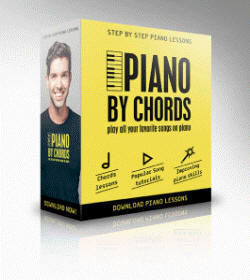 Piano By Chords is an online video course created to help you learn how to play any song on the piano quickly and easily by first focusing on piano chords instead of fingering notes for a melody (i.e. "tickling the ivories") or reading sheet music.
This course was recorded for you whether you're a beginner or a more advanced pianist seeking to improve your skill. You're directly guided by David Yzhaki as he demonstrates step-by-step techniques close up during each lessons, claiming you'll learn how to play any song within minutes.
Now as someone familiar with playing piano (and guitar), I can tell you that it's definitely possible to learn a song within minutes just by playing its chords. When you know the chords of a song there's very little practice needed.
You just play the correct chords (i.e. group of notes; piano keys) at the right time. And when you have the timing of the song you can build on what you know, getting fancy with more advanced playing. It's literally how I learned how to play piano and guitar. Many argue that learning to play piano this way allows you to be more versatile with different styles.
Learn To Play Piano Online
First you'll learn the basic chords of a song on the piano, and then David will show you how to combine them with melody, learning how to use both hands together. The only drawback I've noticed is it's a little difficult to understand him at first because of his accent, but you quickly get used to it.
Piano By Chords has two membership plans. You can either pay $20 per month or pay $120 (50% off) for a full year's access to his lessons. I suggest you pay only $20 to see if it's for you. No need to commit a full year in my opinion until you're sure you want to keep it. The course includes:
100+ Video tutorials (for classic songs)
Multiple eBook exercises (downloadable)
Free Bonus lessons
You access the course material instantly after purchase and have 60 days to see if it's worth the $40 you will have paid by trial deadline ($20 x 2 months). David is really down to earth and honest, so if you don't like his lessons for any reason he'll immediately issues a full refund.
Click the button below to visit David's page for more info.
$97 for 1 Year
Visit
Format: Video, eBook
File Types: Streaming, PDF
Access: Website
Money-Back: 60-Day trial
---
All purchases for this course are handled by "ClickBank: A Global Internet Retailer".
Affiliate ID: "joshuamay".
If you'd like to share your feedback about this course please post in the comments below. Thanks!