Lyrics & Songs > Courses & Resources > Adult Guitar Lessons
Adult Guitar Lessons for Grown Ups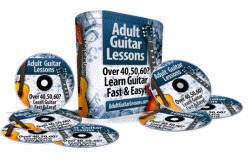 Adult Guitar Lessons is a guitar course made for you if you're a baby boomer who'd like to learn how to play guitar using many classic songs from your generation.
It's a beginner's course geared towards you if you're in your 50s, 60s or 70s, busy with a family and/or career, if you always wanted to be able to pick up a guitar and just jam...but feared you were too old to learn.
This course was developed by Keith Dean, a professional guitar instructor whose career as a musician has spanned over 30 years in the music industry. He says he learned to play by ear, listening to songs and copying riffs from other guitarists; never once taking a music theory course, which he only shares to prove you don't need to either.
It's important to enjoy the music you're playing while learning guitar, but admittedly most guitar courses are created or updated with the latest popular songs to appeal to the younger generation (since most of the time they're the ones who aspire to become musicians and music artists). So Keith wanted to make a course specifically for "growups" as he says.
Now that doesn't mean you can't follow this course if you're a young person from today's music generation. In fact, a good number of music lovers like classic songs far better than today's music. And if you feel the same ways please feel free to take a look at Adult Guitar Lessons too.
There's A Lot Packed Into This Online Guitar Course
You access the main course material through membership instantly after purchase. Once logged on you have 24/hr access to every lesson on the website, separated into four individual modules and outlined in specific steps so you know exactly how to progress through the course.
Below is a rundown of everything you get in the membership area:
100+ video lessons from beginner to intermediate
100+ music charts accompanying each video lesson
Tablature diagrams
Chord diagrams
Written explanation & picture illustrations of each lesson
"Jam Tips" and email support
You pay just under $50 (one time fee) for everything with 2 months to try it out, and if it's not what you thought it'd be you simply contact the site for a full refund. But from the sales page, Keith boasts that you'll play your first song on the guitar within "days" (and not weeks or months).
You can really get a lot out of this course before the trial ends. So see if Keith's Adult Guitar Lessons is something you think you'd be interested in trying.
Click the button below to visit his sales page for more info.
Format: Video
File Type: Streaming
Course: 100+ Lessons
Access: Website
Money-Back: 60-Day trial
---
All purchases for this course are handled by "ClickBank: A Global Internet Retailer".
Affiliate ID: "joshuamay".
If you'd like to share your feedback about this course please post in the comments below. Thanks!