Lyrics & Songs > Music Career > How to Make Money As a Songwriter
How to Make Money As a Songwriter
(How much do songwriters get paid?)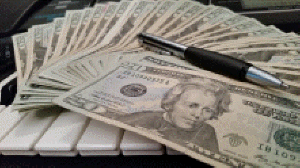 As a Singer / Songwriter you write lyrics, write and sing your melody, and look to find financial success as a live performer and music publisher.
This kind of music career is probably the most popular of all, but it also has been the most difficult to achieve partly because most aspiring music artists enter into the "record" business (as a recording artist) instead of properly entering into the "music publishing" business (as a singer / songwriter).
Click here to understand how singer / songwriters traditionally made their money.
---
---
Singer / Songwriter Income Signed as a Recording Artist
Record companies require that the cash advance (which covers all of the expenses of the song) be paid back in full before paying the recording artist any profit to guarantee the company's return on investment.
Expenses an artist must pay back can include:
25% Studio cost
25% Packaging costs
10% Freebie/Promotional costs
35% Potential Returns (Insurance) costs
These costs do not include the deal you make with your music producer, manager and band mates (if you're in a band).
After the above expenses are covered, the signed recording artist is paid in two ways:
As Recording Artist: From sales of the recording (8-20% profit)
As Singer/Performer: Live Performances (up to 70% profit)
Royalty Income from Just Writing The Song
There's a royalty agreement split between the songwriter and the publishing company. These guys are the ones who provides the song to the public (traditionally not to be confused with record companies):
50% Mechanical Royalties - Whenever the song is copied for distribution
50% Performance Royalties - Each time the song is played on TV, radio, public venues, etc.
---
---
So Let's Summarize...
So we've learned there are three ways a singer / songwriter earns a living in the music industry:
As a singer (up to 70% profit), performing solo or with band mates for ticket sales
As a songwriter (50% profit), working with a publishing company for royalty income
As a recording artist (8-20% profit), working for a record company for record sales
Singer/Performer Pros & Cons:
Highest profit %
Smallest exposure to public (based on potential audience size)
Must keep touring to maintain performance income
Difficult to book shows without an agent, record company or having popular songs
Songwriter Pros & Cons:
Typically 50/50 split of profit %
Largest exposure to public (based on potential audience size)
Residual royalty income from distributions and publications
Must possess popular songs to publish for maximum royalty
Must access group of distributors and publishers
Recording Artist Pros & Cons:
Lowest profit %
2nd highest exposure to public (based on potential customer size)
Historically easy access to distributors and publishers
Must be signed to a record company
Must finish the number of songs/albums on your contract, even when you're not inspired
Which options would you want to pursue most as a singer / songwriter?
NEXT STEP: Learn the strategy to build popularity for you and/or your songs >>
---
---
Does this music career interest you? Is there any more info you'd like to know about it? And if you found this page helpful, bookmark & share it!