Learn How To Write Lyrics & Songs!
Welcome. My name is Joshua but you can call me Jeezy.
I'll give you a crash course in writing lyrics, songwriting and the music business. Learn the skills you need to write lyrics & songs that don't suck.
Read more about my website's mission.
If you don't want to be a professional lyric writer or songwriter this website isn't for you.
There are 5 subjects this site covers:
Each area was written to guide you step-by-step in understanding the creative process of writing music, as if you're just starting out. If you're already a pretty awesome songwriter, great! This website isn't for you.
Each subject will be divided into three phases: (1) "What is...?", (2) "How to...?", and (3) "Now you..."
---
---
Phase 1: "What is (it)?" - Explanation
Most of the stuff I freely share with you on this site is Phase 1 content. I give you the basics, explaining what each subject's all about.
I try my best not to use technical terms just in case you haven't taken any official courses, and instead use simple illustrations & examples to help you understand lyric writing and songwriting ideas more easily.
My explanations are free to read and share with your friends. Maybe all you needed was a simple question answered, and if so that's cool. Take care! But if you want to know "how to", enter into Phase 2.
Phase 2: "How to (do it)?" - Knowledge
Phase 2 content is how I make music that makes me money in one way or another, I can't just freely give this knowledge away without knowing you're serious about this craft.
So you need to show your commitment by joining a training group. You'll get detailed "how to" lessons for the lyric writing or songwriting subject you've joined, fun quizzes and answers to your questions.
For some subjects I'll give sample how to's onsite but I'll only share the juicy stuff with you in a training group. And if you want experience through one-on-one practice with me, enter Phase 3.
Phase 3: "Now you (try it)." - Experience
In this phase I'll help you with lyrics or songs you're working on or we'll work on a new song together, to give you lyric writing and songwriting practice.
In this phase we'll pretty much create music but you have to show you REALLY want this by reaching Phase 2 for all subjects.
My goal is to train you as if you're motivated to do this for a living.
I may also share real music projects with you and give you a share the loot! And as you get more experience we can transition into an official partnership, sending opportunities your way based on the career you want.


Know Your Ranking & Skill Level
While I was considering how I should restructure this website, I thought it would be helpful to give you a way to navigate through the subjects (without getting too complicated by creating accounts).
So I made a training map (<<BOOKMARK THIS PAGE) so you can see the content you already studied grouped by phase and skill level of each subject, and so you can follow them in order.
When you come back, use the training map as a shortcut to continue where you left off.
...It's basically a sitemap (*shrugs*), but one that I think is actually useful lol.
And whenever you see a button like this...
...you'll know you've reached a moment of truth, where it's decision time. Will you take the next step? Will you reach the next level, or stay where you are?
Ok, Let's Get Started!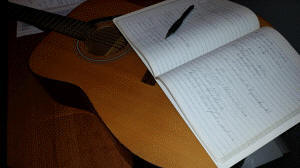 How To Write Lyrics: Lyric Writing Ideas, Tips & Examples

Lyric Writing is a form of creative writing. A great song lyric is clever in its writing and also expressive in its message.
Not many people have the passion or creativity to write lyrics. But if you know you do, learn the skills you need to master the 4 levels of lyric writing.