Songwriting Lesson & Tips
(Rhythm, Melody, Song Structure, Notation)
Learn what songwriting is and understand how to successfully create and combine your music with your lyric to create fun and memorable hit songs whether for personal or professional use.
The Song: For Singing & Dancing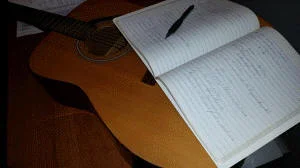 A song is any collection of words, sung to a melody, that's structured to cause your audience to listen and participate by singing along, dancing and/or reflecting on its content.
A great song is one that has a memorable lyric with an infectious melody.
Songs are written for many different music genres, about countless topics and ideas. The most popular songs today are ones about the songwriter's personal experiences, but you can literally make a song about anything.
And whether for personal or professional reasons, a songwriter goal is to uniquely affect his/her audience emotionally.
There's nothing worse than writing a song no one likes.
Songwriting Process: Transform Your Lyrics Into Songs
"Songwriting" is the process of transforming your lyric - which can begin as poetry or a collection of creative writing - into a song by adding rhythm, melody, and structure.
So your first step is to make sure you have at least some lyrical content ready to build on. Your lyric doesn't need to be complete, but you should have enough developed to build the blueprint of your song.
Again, there are multiple genres you can write a song for, and each genre has different rules for adding the following elements to your lyric. But the process remains the same:
It's not necessarily to add any of the above elements in any particular order, but each is very important to complete your song.
IMPORTANT: Never worry about finishing your song in one sitting. Even though there are technical strategies to songwriting, remember that this is an art-form, and all artistic expression must flow naturally.
You should never force this process.
----
Also, knowing how to play a lead instrument (like a piano or guitar) - or being familiar with music production software - would really help since these are often used to develop melodies, but it's not critically important.
However, if you want to learn how to play an instrument, or need affordable production software, head over to my music lessons & software page for deals on a few lessons and tools.
----
And lastly, remember to have fun!
Do you need guidance on how to begin?
Join my training group to learn how to write great songs:
Download my free 6-step exercise manual to learn to funny develop your lyrical content and prepare it for rhythm, melody and structuring.


Next, you'll learn important skills and tips about each song section not taught in music theory class to learn how to structure your next song.


Then, you'll follow audio & video songwriting lessons to complete your training.


Also, get exclusive deals on all professional songwriting tools & courses offered on this website.
In a few weeks you'll have access to everything you need to start writing great lyrics & songs. You've already taken the biggest step by searching for this info, so take the next step.
There's no cost to join and no obligation to stay. But you need to join now because new members join daily and space is limited.
----
IMPORTANT: After you register, check your spam folder if you don't get a confirmation email within a few minutes.
- Jeezy
Updated: April 3, 2020
---
Do you want to songwrite professionally or just for fun? Post in the comments below.
If you like this page, share it!