What Is A Lyricist?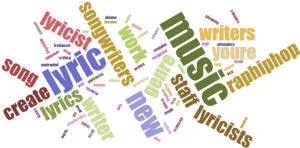 A lyricist (or lyric writer) specializes in crafting creative words for songs. They create lyrics to old and/or new melodies, either to be sung or spoken by a music artist.
While all songwriters are lyric writers, not all lyric writers are songwriters. So if you become a lyricist it means you're choosing to work with someone else's music in one way or another (because you don't create your own melodies).
Either your lyrics are half of the new song, or you're attempting to create a new song lyric inspired by a classic.
A lyricist can choose to team-up with a music composer or songwriter, work as a contracted freelancer, or be hired as part of a staff of a music publishing company (see staff writer).
Probably the most popular genre for a music career as a lyricists is rap or hip-hop.
Even though every music genre needs great lyricists, rap's main artistic focus is on how creatively you can string together words and phrases over a melody, (break) beat or loop.
Average Income for Lyricist Jobs
Like with most jobs, the amount of money you can make is usually based on how skilled or experienced you are at writing lyrics, and whether you're paid hourly or per song project.
But below are the average income for lyric writers and a few pros and cons for each.
Standard Employee Salary: Hourly Wage
Self-Employed / Freelance Income: Fee charged for project
Average income:
Average Income from wage: roughly $30/hr ($70k/year)
Average Income from project fee: between $0 and $100,000 per project
Staff (or Collaborating) Lyricist Pros & Cons:
Shared ownership of song lyric
Guaranteed income (if hired by a music publishing company)
Shares burden of writing, improves lyric, but being critiqued is humbling
Projects provided by team. Better change for steady work
Must finish the number of songs/albums on your contract, even when you're not inspired
Self-Employed / Freelance Lyricist Pros & Cons:
100% ownership of song lyric
Lowest chance for income (until your song sells or leases, or until you find paying artists)
Lack of quality control or critiquing from another lyricist or songwriter
Must build a list of clients on your own
Free to work at your own pace
So Let Us Begin.
If you're still at the beginning stages of trying to learn how to write great songs then join my training group.
Let's first learn how to write great songs like your favorite hits from the radio and train to become a great songwriter in four steps, and then be guided though building your music business:
Download my free 6-step exercise manual to prepare your lyrical content for structuring. Having your song lyric fully fleshed-out before piecing it together is important.


Learn important skills and tips about each song section not taught in music theory class to learn how to structure your next song.


Follow audio & video songwriting lessons to complete your training.


Also, as a member get exclusive deals on all professional songwriting tools & courses offered on this website.
In a few weeks you'll have access to everything you need to start writing great songs. You've already taken the first step by searching for this info.
And reading this complete article proves you are passionate about entering the music business. So take the next step. There's no cost to join and no obligation to stay.
But you need to join now because space is limited.
----
IMPORTANT: After you register, check your spam folder if you don't get a confirmation email within a few minutes.
- Jeezy
Updated: April 4, 2020
---
What do you think? Do you want to be a Lyricist? Post in the comments below.
If you like this page, share it!