How To Write Lyrics
(Lyric Writing Ideas, Tips & Examples)
Learn what lyric writing is and understand how to successfully express your thoughts and feelings through words, whether for songwriting or poetry.
Lyric Writing is Creative Writing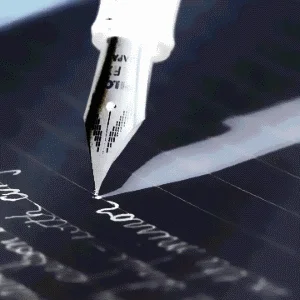 Lyric Writing is an art-form. So the moment you decided to write lyrics you became an artist, it doesn't matter if you earn a living as it or not. And this is an exclusive club to be in.
Not many people have a passion to express their thoughts and feelings through words, and for those who do, many are too nervous to take the steps to learn how. So take a moment to realize that you're special.
There's no difference between you and any professional lyric writer except time and experience. They were exactly where you are now, once upon a time.
And here you will learn the basics to grow your experience in this art form, through simple explanations and examples.
The Lyric: For Songs & Poetry
A lyric is a collection of the words grouped into a structure to best express the lyric writer's thoughts and feelings in poetry and song. A great lyric is clever in its delivery and expressive in its message.
Lyrics can be simple (or obvious) in their message, or more complex to hide a deeper meaning. So there isn't exactly a wrong way to express yourself through lyric.
However, there are a few beginner lyric writing strategies you can follow to help avoid writers block and develop rich, descriptive lyrics whenever you choose to express yourself through poetry and song.
Lyric Writing Strategies
Writing Prompts, Lyric Writing Ideas, and Inspiration - For if you ever had trouble thinking of writing ideas. Learn where inspiration comes from, and how to successfully draw upon that energy for each writing project.

Lyric Writing Tips & Techniques - Follow these key creative-writing tips & techniques to add color and emotion to your writing.

Rhyming and Relating - Learn to express yourself using different rhyming patterns and styles. Even though this is also considered a writing technique, it deserves its own section.
IMPORTANT: Never worry about finishing your lyric in one sitting. Remember that lyric writing is an art-form and all artistic expression must flow naturally. There's no way to force the process.
I also suggest using a pen & pad for your writing. Technology is great! But I strongly believe handwriting has a unique way of accessing your creativity better than typing on a phone, tablet or computer screen.
So keep your writing material handy whenever inspiration strikes.
And lastly, be sure to have fun with this process!
Ready To begin?
Join my training group to learn how to write lyrics and songs:
Download my free 6-step exercise manual to learn to develop your lyrical content. When you've completed your exercises we'll transition into structuring your lyric into a real song.


Next, you'll learn important skills and tips about each song section not taught in music theory class to learn how to structure your next song.


Then, you'll follow audio & video songwriting lessons to complete your training.


Also, get exclusive deals on all professional songwriting tools & courses offered on this website.
In a few weeks you'll have access to everything you need to start writing great lyrics & songs. You've already taken the biggest step by searching for this info, so take the next step.
There's no cost to join and no obligation to stay. But you need to join now because new members join daily and space is limited.
----
IMPORTANT: After you register, check your spam folder if you don't get a confirmation email within a few minutes.
- Jeezy
Updated: April 3, 2020
---
Are you interested in writing lyrics for poetry or songs? Post in the comments below.
If you like this page, share it!